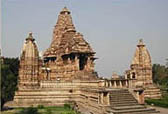 Situated in the heart of Central India, in the state of Madhya Pradesh, Khajuraho is a fascinating village with a quaint rural ambience and a rich cultural heritage. The fascinating temples of Khajuraho, India's unique gift of love to the world, represent the expression of a highly matured civilization.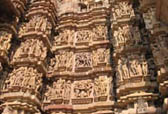 One of the most visited destinations for thousands of world-roaming tourists and art lovers, throughout the year – Khajuraho Temples, epitomize the excellence and glory of the art of sculpturing that flourished around the Tenth century in India. These marvels of medieval India were built by the warrior kings of the Chandela Dynasty.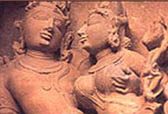 Khajuraho temples were constructed between 950 and 1050 A.D. during the reign of Chandela Empire. The glory of the Chandela dynasty however declined after their rule of over two centuries. Originally there were 85 temples, of which only 22 still exist. The amazingly short span of 100 years the completion of all the temples, At the Temple of Kandariya, there is a profusion of decorated sculptures considered as one of the greatest masterpieces of Indian art. The murals depict the life and times of the Chandelas.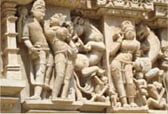 So from about 13th century to 18th century,the temples were left under the cover of dense forest for many years... away from popularity Because of being surrounded by dense forests, these marvelous temples were lost to the world. They were not found until 19th century when a British engineer T.S. Burt 'rediscovered' them. Khajuraho temples have become one of the most popular and most visited destinations. The site of the Khajuraho Temples is one of the few sites in the world to have completed a millennium of existence in the year 1999-2000.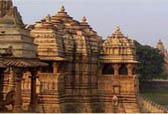 The temples are world heritage site and belong not just to India but to the world The Khajuraho group of monuments has been listed as a UNESCO World Heritage Site.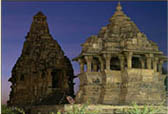 What To see:
The temples are grouped into three geographical divisions:
The western group is most famous.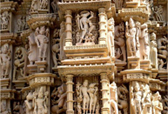 A PLACES TO VISIT LOCAL SIGHTSEEING
Western Group of Temples.
Eastern Group of Temples.
Southern Group of Temples.
Light and Sound Show (Every Evening).
Folk Dances (Every Evening).
Tribal Museum.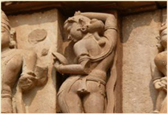 EXCURSIONS
Raneh Water Falls[19 km.]
Pandav Water Falls[32 km.]
Panna National Park[32 km.]
Panna Diamond Mines[56 km.]
Tree House[30 km.]
Banisagar Lake(11 km.)
Kalinjar Fort (100 km.)
Ken Nature Trail -[ 22 km.]
Ajaygarh Fort -[ 80 km.]
TRANSPORTATION MEDIUM AND DISTANCE FROM NEAREST CITIES
Everyday direct flights from Delhi, Agra and Varanasi.
Daily train to/from Jhansi.
Buses and Taxies available from Satna, Mahoba, Jhansi and Agra.
Daily train to/from New Delhi.
Daily train to/from Varanasi.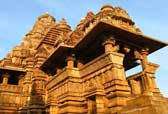 DISTANCE
Mahoba-60 kms
Satna- 125 kms
Jhansi- 175 kms
Delhi-600 kms
Agra-400 kms
Varanasi-400 km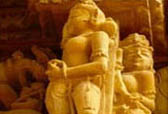 LOCATION
A 15 minute drive from Airport and a 5 minutes walking distance from the western temples. Centrally located hotel in khajuraho.